Modern factory with a unique production process
Most closely monitored feed
ANIMAL FEED PRODUCTION (BEPRO NV)
Animal feed and compound feed with customized recipe
For years Bepro has been a leading producer of specialized feed for young animals like calves, piglets, lambs and goats. These milk substitutes are based on high-quality raw materials and intended for both integrated use and for use by a third party.
In addition Bepro brings a line of compound feed for veal farming in the form of mueslis to the market.
Modern factory with a unique production process
By a thorough selection of suppliers and raw materials on the one hand and a highly controlled and unique production process on the other high-quality milk substitutes are produced. 
Controls in own lab:
Sampling of all raw materials for review before they are released for use in recipes
Extensive sampling of finished products for review before release for integrated use or sale
Continuous monitoring on various quality parameters both chemical as physical
Health of the animals and the consumer are priorities
As link in the food chain the production of healthy and safe animal feed is of the utmost importance. To this end, all means possible have been used to achieve this.
Additional controls on microbiological parameters (Salmonella, Coli, Clostridium…), unwanted substances (e.g. dioxins, PCB's, heavy metals, pesticides, mycotoxins…) in accredited laboratories in accordance with the Belgian and the European regulations.
Full registration of all raw materials and manufactured feeds via automated production systems
Unique tracking & tracing from receipt of the raw materials over the delivery of finished products to the livestock farming
Certification and quality assurance
Bepro meets the GMP certification (now FCA) since 1995
Compliance with HACCP-process description
Bepro has a certified automatic control system ACS (FAVV)
Participant in the BFA sampling plan
Regular inspections and sampling at the company by the FAVV
For more information see certifications.
Bepro develops customized compound recipes tailored to the needs of the customers in own laboratory.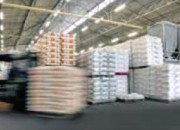 The animal feed and compound feed depart daily to livestock farms in the whole of Europe.