Standardized veal farming

Production according to the BCV-specifications

Our own transport under the best of circumstances
VEAL FARMING (VILATCA NV)
Veal Farming – Import & Export
Vilatca is responsible for the purchase and sale of calves, veal farming under its own management and in collaboration with external veal farming companies.
The automatic control exceeds the statutory regulations:
Production according to the BCV-specifications: growth enhancers prohibited; meat free of antibiotics; control by internationally accredited inspection companies.
Each calf is individually monitored.
Certification GVP: veterinarians part of the company.
Certification GMP: hygiene, production rules.
Sanitel-circuit: perfect traceability throughout the entire production chain. 
Exchanges of traceability information in the EU.
For more information see certifications.
The strictest automatic control
The food safety program of Vilatca promotes a sense of trust between the farmers, the supplier of animal feed (Bepro), the wholesale distribution, the retail and the eventual consumer.
The company goes the furthest in the automatic control, made even stricter with the BCV-, GVP- and GMP-certifications.
Vilatca delivers certified veals and can, through high standardization, guarantee safety, quality and full traceability.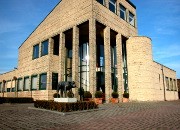 Vilatca provides certified calves that ensure safety, quality, and full traceability.