International (refrigerated) transport and logistics

Distribution of fresh produce


LOGISTICS (TEJO NV)
Transport and logistics
The logistics service provider Tejo is specialized in the transport of: 
animal feed
livestock
meat and fresh produce
In order to respond to the needs of our customers Trejo has an extensive modern fleet. All our shipments are monitored by means of a track & trace system.
For the transport of animal feed we have a dedicated fleet for the different types of feed.
During the transport of live cattle there is an extra emphasis on the welfare of the animals.
Although the fundamental tasks are located in Belgium, there are daily refrigerated transports to various countries in Europe.
Control and hygiene
During the transport of refrigerated or frozen foods there is an emphasis on the permanent control of the constant temperature and the observance of the general hygiene. For this purpose we strictly monitor and register the temperatures. The isolated vehicles for the refrigerated transport are in accordance with the FRC-standards.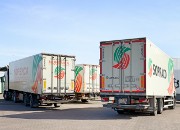 Large fleet for the transport of livestock, animal feed and refrigerated or frozen products.