Modern production facilities

Craftsmanship per carcass and technical parts


Certified veal production
VEAL (LORNOY NV)
Reputable supplier
The Lornoy company has been known for decades for its highest quality veal. Not only in Belgium, but also in Europe and far beyond, the constant quality, distinctive taste, colour and tenderness is typical for the veal of the Lornoy company.
The veal is greatly appreciated because of its light digestibility, high nutritional value, low fat and fine structure.
Food safety thanks to modern and safe production methods
As with the other companies of the Sopraco group food safety also prevails with Lornoy. This is the central thread throughout all the processes. This is ensured by internal and external controls.
Thanks to its knowledge acquired throughout the years, in which the most advanced and safe production methods are being used, Lornoy has acquired expertise regarding veal.
The veal production of Lornoy contains a wide assortment. Tailored to the customer, technical, and portioned parts, are being offered. Both fresh and frozen.
Tracing
The strict, regulated production and the vertical integration make it possible for Lornoy to get correct information about its veal fast at any time.
The traceability of the processed veal products is of crucial importance. Each animal and all technical parts are traceable continuously, even after further processing, until the time of delivery. All data pertaining to a calf will be closely registered by means of an automated tracing system.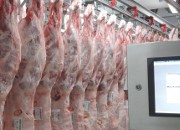 Production of veal of the highest quality, both fresh and frozen for deliveries in and outside the EU.