Fried calf's liver with apple and red wine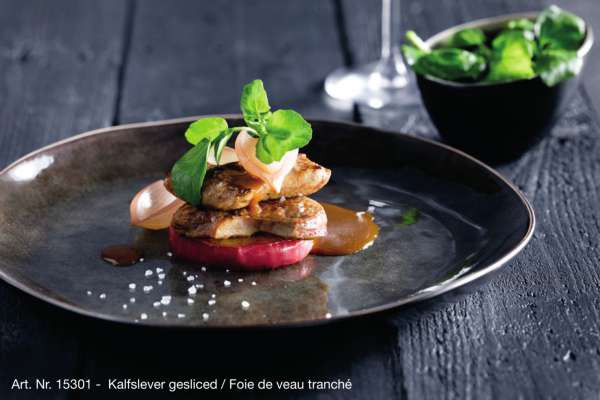 Recipe for 4 people
Ingredients
 4 slices of calf's liver
(Art. 15301 Sliced calf's liver)
1 apple
50 g watercress
4 halved silver skin onions
2 tbsp flour
100 ml red wine
50 ml Sopraco veal stock
50 ml water
2 knobs of butter
pepper and salt
Preparation
Divide the apple into four slices. Heat a knob of butter in a pan and fry the apple slices slightly. Scoop out and let rest under aluminium foil.
Season the calf's livers with pepper and salt and dip them in the flour. In the same pan, heat a knob of butter and fry the livers until golden. Also scoop them from the pan and set aside under aluminium foil.
Pour the cooking fat out and flush the pan with the red wine. Let the alcohol evaporate a little and pour the veal stock and water in it. Spice with salt and pepper and let it cook.
Divide the apple slices on the plates and place the veal livers on top. Pour the sauce over it. Finish with the watercress and the silver skin onions.