Oriental wok with veal slices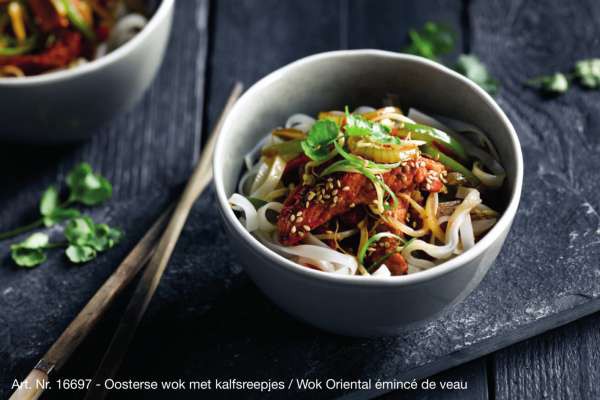 Recipe for 2 people
Ingredients
Art. Nr. 16697 – Oriental wok with veal slices
200 g noodles
1 chopped spring onion
2 tbsp sesame seed, roasted
2 tbsp peanut oil
Pepper and salt
Preparation
Heat the peanut oil in a wok. Season the meat with salt and pepper and fry the slices in the oil.
Spoon the meat from the wok and set aside. Then add the vegetables to the wok and cook for 5 minutes until cooked through. Then add the sauce and the meat. Spice with salt and pepper and let cook for a few minutes.
Cook the noodles until tender as directed on the package. Drain and leave to drain.
Divide the noodles on the plates and scoop the meat with the vegetables on to them. Finish with the sesame seeds and the spring onions.