Quiche with veal bacon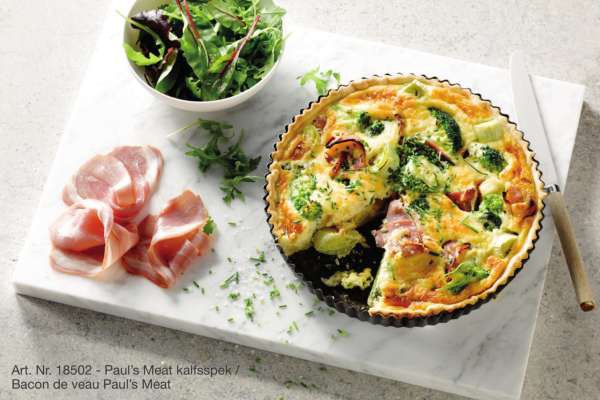 Recipe for 4 people
Ingredients
200 gram veal bacon thinly sliced
(Art. Nr. 18502 - Paul's Meat veal bacon.
See also Art. Nr. 18501)
1 sheet of puff pastry
½ broccoli, florets
1 leek, in pieces
50 g cheese, grated
4 eggs
200 ml cream
200 ml milk
1 tbsp olive oil
1 pinch of nutmeg
pepper and salt
Preparation
Preheat the oven to 200 °C.
Blanch the leek rings with the broccoli florets briefly in salted water. Rinse under cold water and drain.
Fry the bacon until crispy in olive oil. Drain on paper towels.
Beat the eggs with the cream and the milk. Season with nutmeg, salt and pepper.
Lay the puff pastry in a large baking pan and press the edges firmly. Scoop the broccoli, leek and bacon over it. Sprinkle with half the cheese. Pour the egg mixture over and sprinkle with the rest of the cheese.
Bake the quiche in the oven for 30 minutes.
Tip: Tasty with fresh lettuce.