All-in-one production site
SLAUGHTERHOUSE
Detail to hygiene and animal well fare
Slaughtering is always done under the supervision of the FAVV and our own quality control managers. In terms of hygiene and food safety the strictest standards are used.
The slaughterhouse gives great importance to animal welfare. Thanks to the integration of the entire production chain – from farm to fork – we can also deliver this. We strictly monitor the housing, the quality of the food and the way of transport. It goes without saying that the slaughterhouse meets the most stringent environmental, hygiene and EU standards.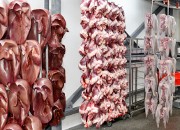 The slaughterhouse produces slaughter by-products for diverse markets inside and outside the country.