Steak tartare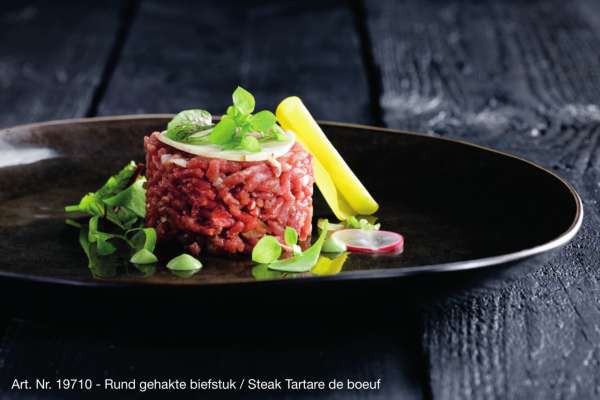 Recipe for 4 people
Ingredients
600 gram minced steak
(Art. Nr. 19710 – Beef minced steak)
½ beetroot, in fine slices
2 radishes in fine slices
1 shallot, finely chopped
4 gherkins, finely chopped
2 tbsp capers, finely chopped
2 eggs, lightly beaten
4 tbsp wine vinegar
1 tbsp Worcestershire sauce
2 drops of tabasco
1 tbsp mustard
1 tbsp olive oil
pepper and salt
Preparation
Sprinkle the fine slices of radish and beetroot with the wine vinegar. Let pickle for 5 minutes.
Mix the tartare with the shallot, the gherkins and the capers. Stir well and season with pepper and salt.
Mix the eggs with the Worcestershire sauce, the mustard, the tabasco and the olive oil. Mix this in with the meat.
Make 4 servings of the tartare on the plates. Finish with the slices of pickled radish and beetroot.